Cast Iron Sinks vs. Stainless Steel Sinks

Kitchen sinks are not cheap by any means. And it's because sinks are probably one of the plumbing fixtures that didn't really need a constant replacement. What we choose will remain that is for quite a long time until it breaks or a replacement is needed for a major house renovation or a simple kitchen remodelling project. So, choosing the best type of sink in our houses is no easy task. There are a lot of things to consider, especially with the type of materials the sink is made of.
Here we give you the rundown of the two most common kitchen sink materials to help you pick the best choice for you.
Cast Iron Sinks vs. Stainless Steel Sinks
1. Cost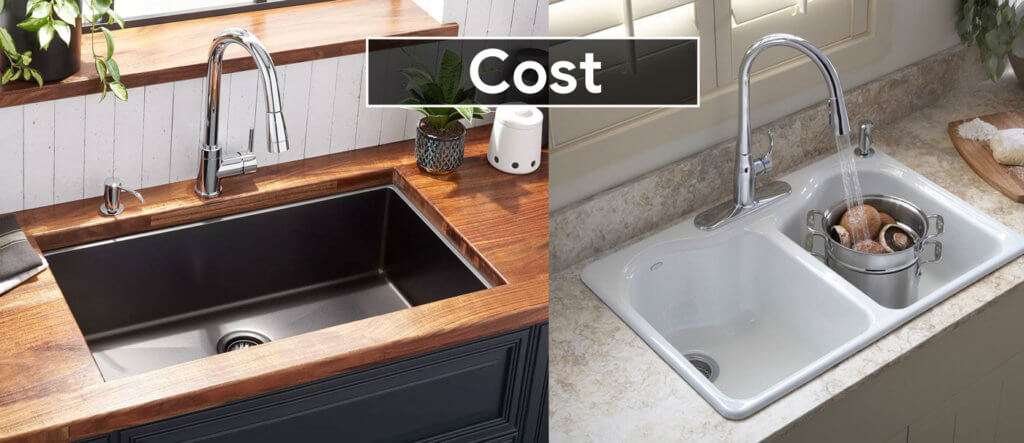 Because stainless steel sinks are usually simple and made up of lesser materials, it generally costs less than the cast iron ones. On average, simple stainless-steel sinks cost around $200. However, if you are really tight on budget, there are models that usually cost around $100 that you can pick from your nearest Home Depot or Walmart stores. While these models are thinner than usual, it can still last longer given proper care. As what you will expect from a stainless-steel material.
Higher-end models for stainless steel sinks can go as much as $1000. A stainless-steel apron sink from American Home, for example, costs a whopping $1,095. A bit too much for a kitchen sink, but it is a very clean-looking high-quality product.
The cast iron sinks, on the other hand, is a little bit more expensive. Cast iron sinks, on its cheapest, generally cost around $200. And that's just for simple models. On average, you should expect to throw-in $600 for these types of sinks, with premier models, can go up to $3,000, and maybe even more.
Reason for this is the expensive type of finishes on top of the cast-iron frame. On Kohler, for example, a premier farmstead model enamelled cast iron sink costs a staggering $3,150. While expensive, cast iron sinks have their own advantages which were mentioned in the previous article.
2. Maintenance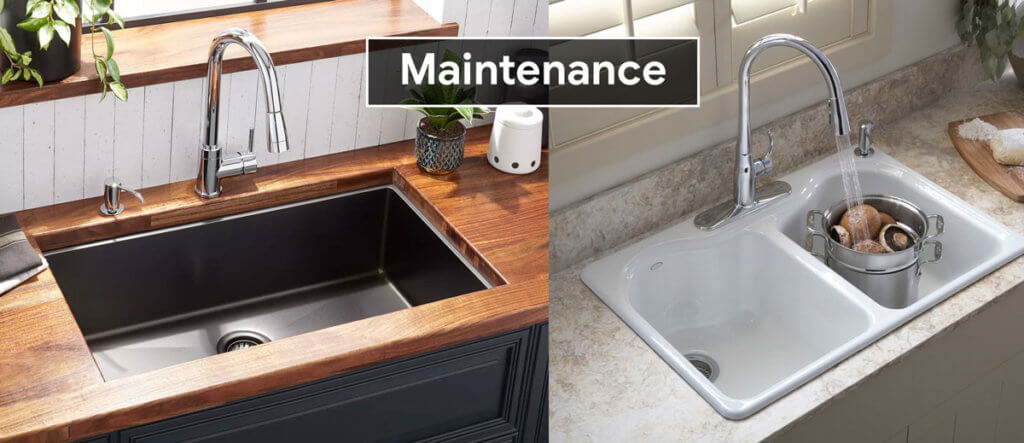 Both the stainless steel and cast-iron sinks have a smoother surface and shiny finishes (mostly brushed, on stainless steel sinks). The use of abrasive materials for cleaning, such as steel wool, is not recommended for cast iron sinks as it can dull the surface area. Also, rubbing steel wool on stainless steel sinks can scratch the protective layer of chromium oxide and could later initiate rust. Granite kitchen sinks are free from such concerns and are very easily maintained. However, you might want to be extra careful if you opt for a granite sink because of their elegance and durability. We recommend you consider brands like Elkay and Blanco for their trademarked varieties of granite composite sinks.
Using softer materials such as cotton and microfiber cloths, nylon sponges, and plastic scrubbing are generally safe. On top of this is, of course, a gentle cleaning soap such as liquid detergent or liquid dishwashing soap. You can also use less acidic cleaning solutions such as lemon and baking soda to clean both types of sinks.
However, if you expect to use strong acidic solutions near your sink, such as chlorine, then cast iron sink is a good choice. Strong chemicals with pH less than 1.0 can cause permanent staining on stainless steel sinks. Furthermore, Porcelain-coated iron cast sinks are also not vulnerable to chloride pitting. Chloride is particularly damaging to the oxide-coating on the surface of a stainless-steel sink.
Cast iron sinks are also good at handling things like hair dye stains. Since porcelain isn't vulnerable to chloride pitting, using undiluted chlorine solution to remove stains on its surface generally works. However, a plain coloured cast iron sink can become yellowish in time. And it can't be removed using a simple bleach solution. This is because the water sips through the coating over time. So, it's always important to dry your porcelain sink. Coloured cast iron sinks, however, are good at hiding these types of stains.
Stainless steel sinks, on the other hand, can last longer retaining the same patterns and finishes, given proper handling.
3. Weight and Mounting Style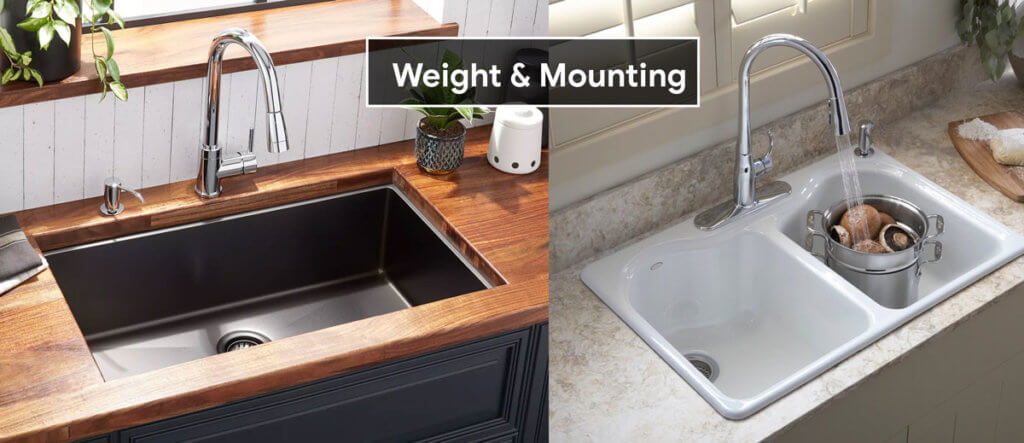 There are basically three common types of sinks. The under-mount sink which is installed directly under the countertop, the drop-in sink which mounts directly on the top of the counter, and the farmhouse sink (also known as apron sink), which extends over the edge of the counter.
Both the cast iron and stainless-steel sink can be mounted the same way, but if you're doing all the replacement DIY-style, then there are many things to consider.
Cast iron sink is usually heavier than the stainless-steel sink of the same size. That means, before considering cast iron sinks, you should first check if your counter will be able to support it. It also poses challenges during the installation as larger cast iron sinks can often be extra heavy for a single person to lift. In this case, you will need to find someone to help you with the installation.
If you want a cleaner looking sink, I would also recommend that you choose under-mount models. For simple homes, Farmhouse models are not recommended as most sinks with this design are expensive. However, if you have extra cash to burn, and you want the look of a classic American home kitchen, the farmhouse sink is a good way to go.
While selecting the style of the Kitchen Sink, you must also consider choosing the correct shape of the sink as per your personal requirements.
4. Durability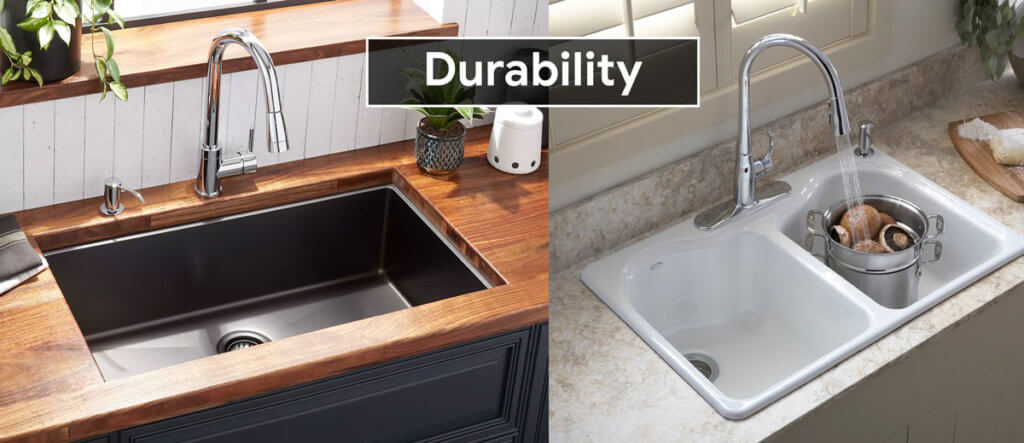 There's no more durable kitchen sink material than cast iron. As mentioned above, while heavier than stainless steel, the cast iron sink can handle most harsh chemical cleaners like bleach. It's also not susceptible to stains, as simple undiluted chlorine can work wonders. However, most of the available cast iron sink in the market are coated with porcelain. This material tends to chip or crack over time.
Not only that, but these types of sinks are also prone to discolouration from hard water stains which can't be remedied with bleach. There are solutions saying that vinegar or oxalic acid could remove hard water stain and iron stains. Also, oxalic acid is a highly poisonous chemical, so I'd rather not play with it much. It is always advisable to always dry these types of sinks after use.
Cast iron sinks are also hard. If you have a busy kitchen or tend to have a buttery hand, dropped dishes is almost sure to break. In that sense, a stainless-steel sink is a better choice.
Stainless steel sink doesn't chip or crack in time. Dropped dishes also has a little more bounce on the surface as it's not as hard as cast iron sinks. It's also almost impossible to dent a stainless-steel sink.
Unfortunately, the material doesn't live up to its name. Stainless steel sink does stain, but stains on cast iron sinks tend to stand out more. Also, as mentioned, it is prone to chloride pitting, which could dull the surface, and remove the oxide coating. This could initiate rust. Fun fact, stainless steel is an odour neutralizer. If you handle a lot of fish or garlic, a simple rub on its surface could help eliminate the stubborn odour. Now that's cool.
5. Colour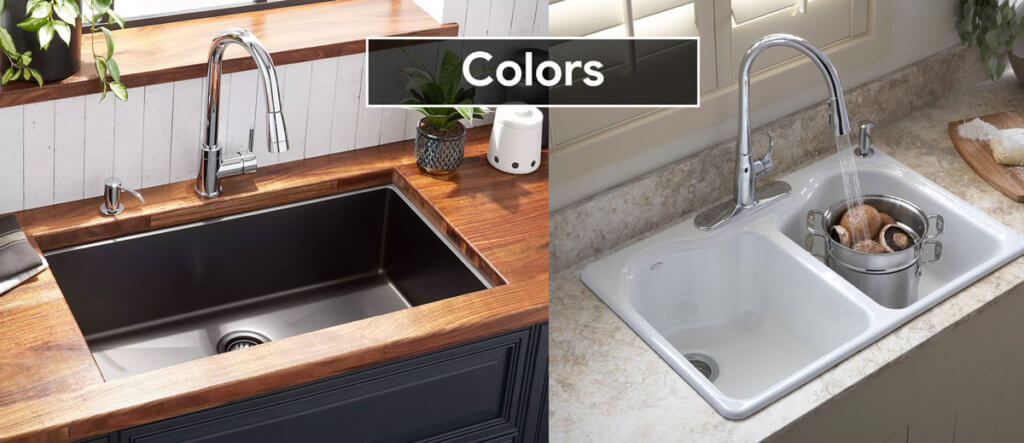 And finally. If you want something that has little more colour choices, the cast iron sink is good to go. The porcelain coating on cast iron sink can come with many colour variations. In Kohler for example, you get plum-coloured sinks, to indigo blue. CECO also offers cast iron sinks in almond, platinum, and other beige and off-white colours.
For stainless steel sinks, there are not many crazy colours to choose from. Fortunately, metallic silver is a neutral colour that fits on almost anything. In this sense, you could always get away with a little green or colours near your stainless-steel sink. While Stainless Steel & Cast iron sinks are popular in many households due to their cost & life, copper sinks are popular among people who love architecture.