Kraus Vs Ruvati | Everything You Need To Know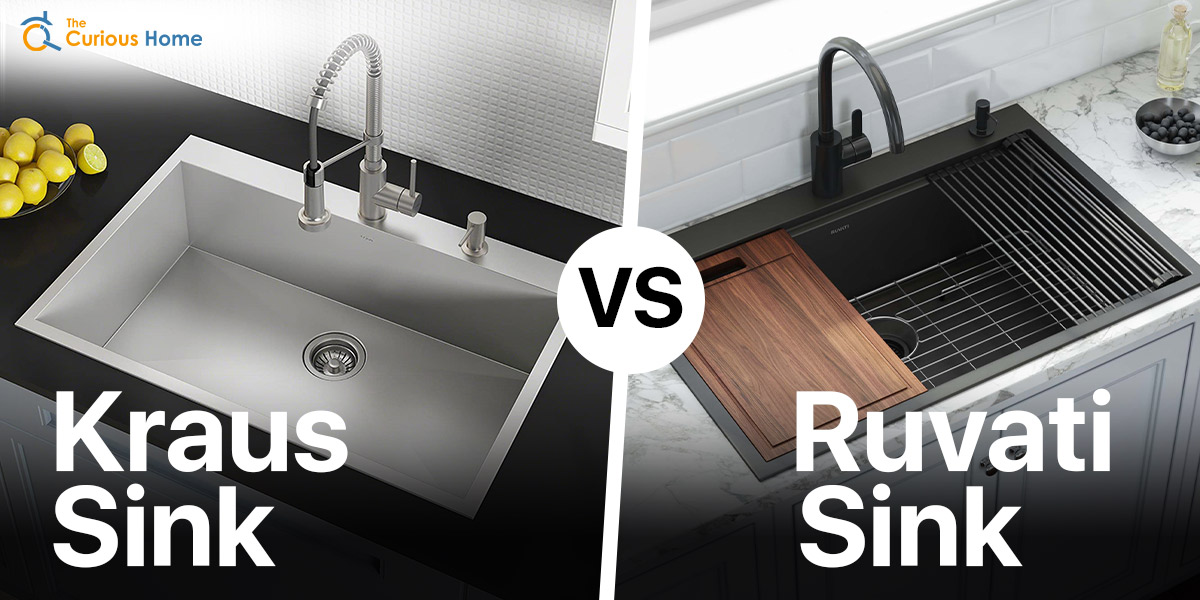 The most significant workspace in the kitchen is the sink. A kitchen sink is a bowl-shaped plumbing appliance that people regularly use to wash dishes, their hands, etc. They have taps with hot and cold water as well as sprayers for rapid rinses. The sink accounts for between 50 and 60 percent of the time spent in the kitchen. Sinks are used for washing, cutting, and preparing meals.
The finest sink designs should make these jobs as quick and easy as possible. Cast iron with an enamel coating, stainless steel, composite materials, and solid surfaces are commonly used to make sinks. In this article, we will compare two brands Kraus vs Ruvati, and let you know which is the best for you.
Kraus: Brand Overview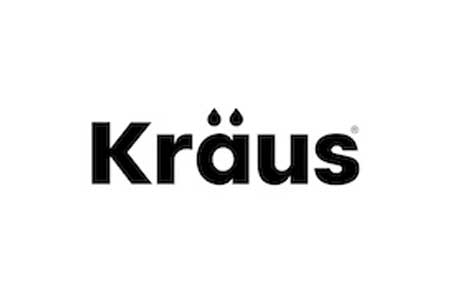 Incorporated in 2007 and headquartered in New York, Kraus Faucet currently has a presence all over the world. By making a wide range of pristine, contemporary, high-quality goods available to every customer, Kraus entered the plumbing fixture market to reinvent affordable kitchen & bath design.
They use incredibly effective materials that are also highly hygienic, simple to maintain, and have minimal impact on the environment. By designing kitchen and bathroom fixtures to match both budgets and lifestyles, they make outstanding design accessible.
They constantly develop interesting ways to design a better kitchen and bath so you can fully appreciate your surroundings, whether it's a fresh new design or optimized functionality.
Upsides Of Using Kraus
Faucets that resist rust : Rust-resistant coatings are included on Kraus faucets. However, occasionally they could rust as a result of stainless steel oxidation. The faucets can be prevented from rusting by giving them the proper care.
Variety of choices in sink and faucets: The adaptability of the Kraus sink series is one of its best features. You'll get numerous shapes, designs, and materials to choose from the firm to suit almost any theme or inclination in terms of aesthetics. The company also offers a range of faucets to pick from, with variations in size, color, material, and design
Technology to reduce noise: Kraus' stainless steel sinks feature soundproofing and a protective undercoating, making them significantly quieter to use.
A warranty is included : They offer a limited lifetime warranty, and all of their sinks are AB1953 compliant, ADA compatible, IAPMO Shield certified, and IAPMO Shield supported. Despite the fact that these faucets are well-made, there is always a potential that anything could get broken in transit, which is why Kraus offers a 30-day return policy starting the day after delivery.
Affordable prices: The price it charges is reasonable for the quality that this brand offers.
Downsides Of Using Kraus
People on a tight budget might be concerned about the price. Not all of Kraus's items are made in-house.
Prices may keep changing as they become dependent on Chinese goods.
Some finishes are vulnerable to deterioration, such as surface scratches.
Ruvati: Brand Overview
Ruvati was established as a Texas corporation in 2009. Due in large part to its comparatively inexpensive costs and extensive online presence, the company has come a long way in a short period and gained significant consumer attention. Nothing is produced by Ruvati.
From Chinese producers, it imports sinks and matching accessories. Making exquisitely built fixtures that function to the highest standards is key to their design philosophy. Each product is created with the actual requirements and preferences of the consumer in mind.
Upsides Of Using Ruvati
Beautiful Designs: The Ruvati team is fixated on three things in particular: stunning items that enhance any house, innovative design that pays close attention to every minute detail while boosting usefulness, and unrivaled quality that endures for a lifetime. Ruvati is a proponent of "il bello e il buono," or the grace and refinement of Italian design.
Elevate the look of your home: Each fixture is precisely created to add a touch of true elegance and sophistication to any home. They are made to be both practical and enjoyable to use in daily life, pleasing to the sight as well as the hand.
Unmatched quality: Each Ruvati product is handcrafted, meticulously examined, and held to the highest industry standards for quality.You'll definitely see Ruvati as one of the top brand when it comes to buying the best kitchen sinks. The sound guard coating on Ruvati kitchen sinks, which are handcrafted from superior-grade stainless steel, helps to muffle sounds. All faucets are made of solid brass and have ceramic KeroxTM cartridges, which guarantee drip-free functioning for a lifetime.
High norms for quality testing: To guarantee a good outcome, Ruvati thoroughly tests all of its products.
Downsides Of Using Ruvati
Dependent on imports of goods made in China.
Their reasonable price range is very high.
Kraus Vs Ruvati | Which Is Better?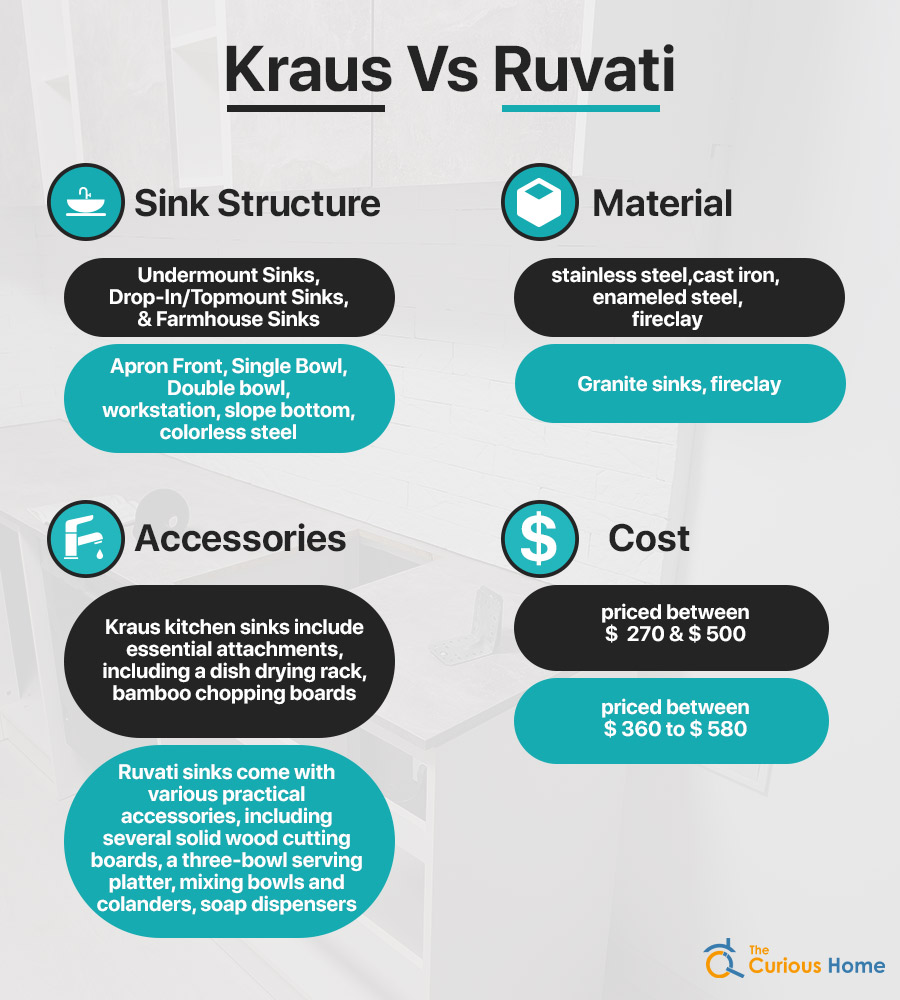 1. Sink Structure
From farmhouse sinks to commercial styles with contemporary zero radius corners, roomy single bowl basin sinks to multipurpose double bowls, extra-deep utility sinks to bar/prep sinks ideal for a tiny kitchen, Kraus offers a variety of solutions to fit every requirement and fulfill every stylistic taste. Every significant material and design of the kitchen sink is available from Kraus. Undermount Sinks, Drop-In/Topmount Sinks, and Farmhouse Sinks are the different types of sinks available.
Ruvati raises the bar for performance and design by creating a distinctive range of high-quality sinks and faucets that evoke the traditional touch. There are different varieties of sinks: Apron Front, Single Bowl, Double bowl, workstation, slope bottom, colorless steel, etc.
2. Material
The STANDART PRO Series is built of sturdy stainless steel and has conventional shapes for global style, while the KORE Workstation Series has an integrated ledge for sliding functionality-boosting accessories. Pintura Sinks provide the traditional appearance of cast iron sinks without requiring expert installation because they are made of lightweight, enameled steel. The Turino Series, which is made in Italy from a premium fireclay combination, will add a classic look to any kitchen.

Ruvati offers high-quality, long-lasting stainless steel sinks, which are mostly utilized in kitchen sink construction. Additionally, it has granite sinks, which provide the space where it is installed some color. Ruvati offers fireclay sinks, which are renowned for their durability and usefulness.
3. Accessories
For effectively completing your tasks, Kraus kitchen sinks include essential attachments, including a dish drying rack, bamboo chopping boards, and more.

Likewise, Ruvati sinks come with various practical accessories, including several solid wood cutting boards, a three-bowl serving platter, mixing bowls and colanders, soap dispensers, and much more.
4. Cost
The kitchen sinks from Kraus are the best value for the money. Its kitchen sinks are priced between USD 270 and USD 500. It is for buyers who want to make the most of their little investment.

Ruvati kitchen sinks are reasonably priced for their aesthetic and high-quality construction. They range in cost from USD 360 to USD 580. At the end of the day, it's just a sink and should serve the purpose, so be very sure before investing. It is best for buyers with a high budget.
5. Customer Service
Kraus, customer care service, has got good reviews on Facebook and other social media platforms. Additionally, they have a rating of 4.1 out of 5. They try to resolve the issues as soon as they get a complaint. To resolve your issue, you can call them on their toll-free number or text them.

Most of the customers' feedback suggests that Ruvati is not as quick in problem-resolving, which makes the whole process laborious and disappointing for the customers. They do have a helpline number which is functional from Monday to Friday between 8:30 PM to 4:30 PM.
Conclusion
Brands such as Ruvati and Kraus offer a wide range of high-quality and durable sinks, faucets as well as other accessories. They not only elevate the view of the house but also gives your house a luxurious and beautiful finish. It makes tasks easier, and you would love doing the kitchen chopping, washing, and other work.

Before investing money in these brands, ensure what exact material, color, and design you want. Always look out for the best available product that is available within your budget. If you are ready to invest a huge amount of money, then Ruvati can be your best option. But if you have a moderate budget and want to get the same elegance and feel, then go with Kraus, as they are budget-friendly.