Best Faucet Brands Made In USA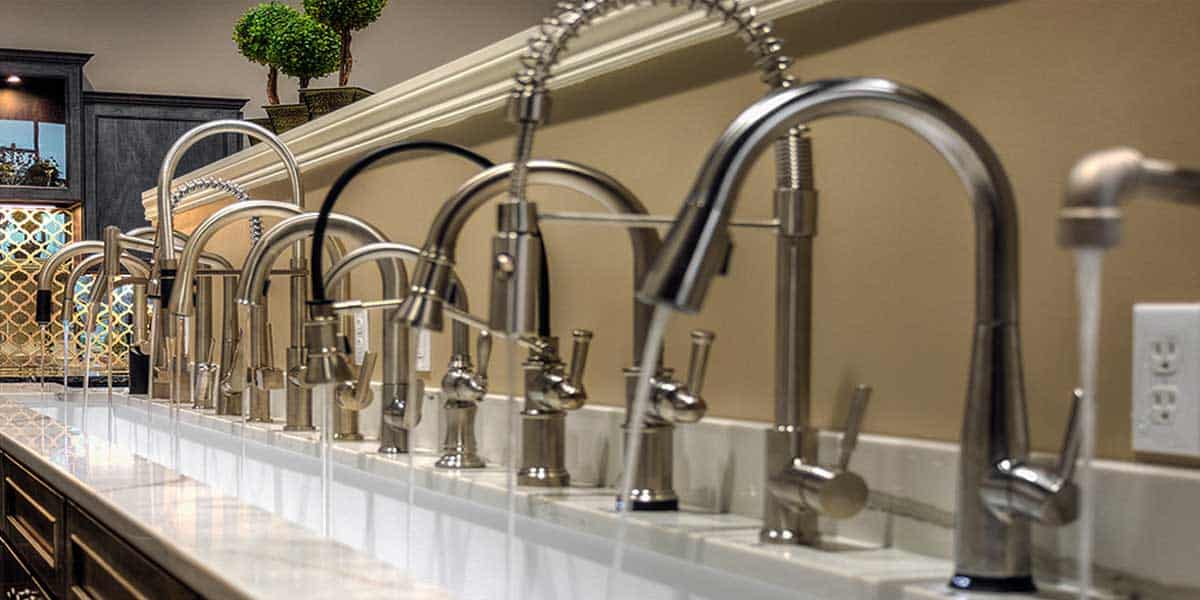 The faucet in your bathroom/kitchen is more than merely a basic piece of hardware. The faucet you pick may help you save water, overall enhance the beauty of your sink, as well as make a statement. Thankfully, there are several fantastic American faucet brands and models to select from, with high-quality components and innovative design features.
If you're planning a kitchen renovation, American-made faucets are among the finest options. They are long-lasting, trendy, and convenient. You'll also know that the item came from a manufacturer that adheres to the highest quality and safety requirements.
But with a plethora of options to choose from, how can one know which one is ideal for them? To help you narrow down your options, we've compiled a list of the Best Faucet Brands Made in the USA, along with some notes on what makes each one unique.
Faucet Manufacturers in the USA
USA-based high-end faucet brands utilized premium materials to manufacture faucets that are of the highest standards by merging modern-day trends with functionality. With that being said, the following is a list of USA based faucet manufacturers.
1. Moen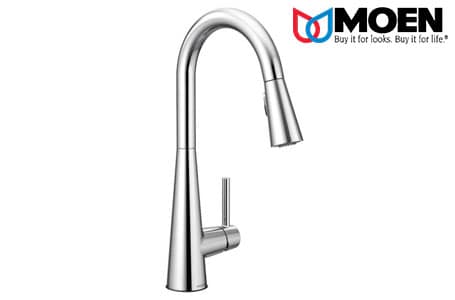 Moen has established itself as a market leader as one of the major kitchen faucet manufacturers in the USA. It was founded in 1937 under the aegis of Moen Incorporation and is based in North America.
The IAPMO Group, which focuses on kitchen product research and testing, has certified Moen, which implies that the products manufactured by Moen are free of Lead. In addition, Moen products do not contain other hazardous chemicals as well. Several organizations have honored Moen with many distinguished awards.
People can rely on Moen for outstanding kitchen faucets, thanks to the innovations like Magnetix, MotionSenseTM, and PowerClean™. These technologies make our lives convenient, comfortable, and easy. Furthermore, the development of MotionSense technology has allowed for the creation of smoother and easier-to-use touchless faucets. We've compiled some of their most popular models in our Moen faucet reviews.
The Power Clean feature of Moen faucets facilitates fast cleaning up at the sink by producing high-pressure water flow. In spite of producing a high-pressure water stream, this technology is absolutely water-efficient and even results in lower water-bill costs.
2. Waterstone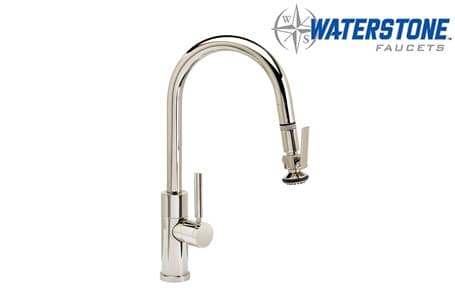 Waterstone came into existence in the year 1999, and since then, the brand has emerged as a distinguished faucet manufacturer. Without compromising on functionality, Waterstone gives a touch of elegance to the kitchen with its faucet models. To complement or improve your kitchen's present aesthetics, you may pick from 30+ stunning and opulent finishes. Waterstone faucets can be considered as truly high-end kitchen faucets for those that looking to put together a lavish setting.
However, due to their high-end manufacturing, Waterstone faucets are a bit pricey. Water filtration faucets produced by Waterstone are one of the biggest sellers in America and Canada.
Each and every product manufactured by the brand ensures guaranteed aesthetics and operation that lasts a lifetime. The brand's customer service is also outstanding, and each Waterstone faucet comes with a limited lifetime warranty.
3. Brizo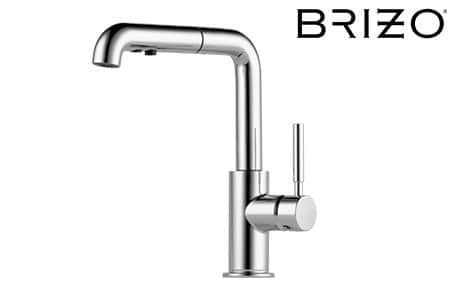 Brizo is a high-end brand that excels in producing environmentally friendly kitchen faucets in the United States. Brizo designs high-end kitchen, bath, and shower accessories that continuously push the boundaries of design, workmanship, and innovation. The brand believes that no detail is ever too insignificant to deliberately conceive, diligently handcrafted, and thoroughly obsessed over.
Besides being eco-friendly, the brand's products are also great for adding a flair to your kitchen. All of its items are handcrafted, for which each Brizo faucet is unique in its style. The Brizo Artesso 63225LF is a good display of the brand's craft.
These exclusive faucets by Brizo can't just be purchased from anywhere. These top-quality faucets and their different collections are available exclusively only at their stores. Brizo is definitely your best option if you want customized premium kitchen fittings.
You can choose from a wide variety of collections such as articulating faucets, pull-out, bridge faucet, pull-down faucets, and whatnot to elevate the appearance of your kitchen.
4. Kohler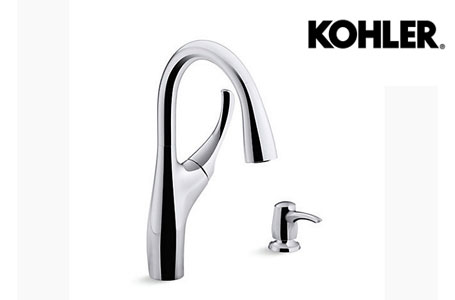 Kohler has retained its reputation as a go-to brand for excellent quality kitchen faucets since its founding in the 1870s. It was founded by Michael Kohler and is headquartered in Wisconsin village, USA. Even though the brand focuses on selling high-quality goods, the majority of Kohler's faucets are budget-friendly. Even better, they're backed by a lifetime warranty.
Various designs offered by Kohler include pull-down faucets, pull-out faucets, touchless faucets, single-handle faucets, double-handle faucets, etc.
Several color and finish options are available, guaranteeing that you will discover the ideal fixture for your home or business kitchen. Kohler is your best choice if you're searching for a faucet with gadgets, sensors, robotic arms, and a premium finish. Builder Magazine recognized the brand as the "most used" and "best quality" in the bath accessory category.
5. Chicago Faucets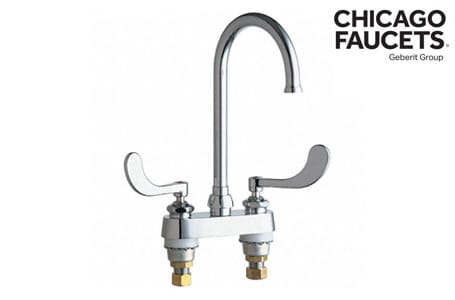 Chicago Faucet is an American-owned firm founded in 1901 by Albert Brown that makes high-quality kitchen items. The company's headquarters are in Chicago, Illinois. However, the firm was taken over by Swiss Geberit AG in 2002, necessitating the move of its headquarters to Des Plaines, Illinois.
It is one of the best and most durable commercial kitchen faucet brands that has time and again proven to work smoothly for years. The products designed by Chicago faucets come in a variety of styles like classic/modern designs, manual/touchless options, etc.
Chicago Faucets, like any other leading faucet manufacturers, employs cutting-edge technology to create its products. Furthermore, Chicago Faucets is known for producing a line of extremely creative commercial products that come with a limited guarantee, providing you peace of mind while purchasing them.
6. Jaclo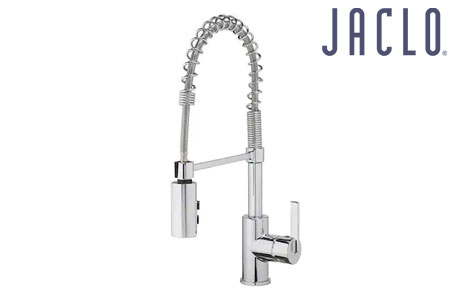 This family-owned business, founded in 1901, creates one-of-a-kind kitchen faucets for the modern household. Jaclo is a kitchen faucet manufacturer that recognizes your demands, such as high quality, durability, design, and environmental sensitivity. Furthermore, they make their goods using cutting-edge technologies.
You may purchase a faucet with a simple design in one of 26 plated finishes from Jaclo, as well as seven different handle types to suit your preferences. Independent groups have also tested Jaclo faucets to ensure that they meet North America's most recent dependability and safety requirements.
Each faucet incorporates cutting-edge technology to provide exceptional, cost-effective water consumption without compromising the pressure of the stream. The majority of the brand's kitchen faucets come with an unlimited guarantee, and its customer service is dependable.
7. Glacier Bay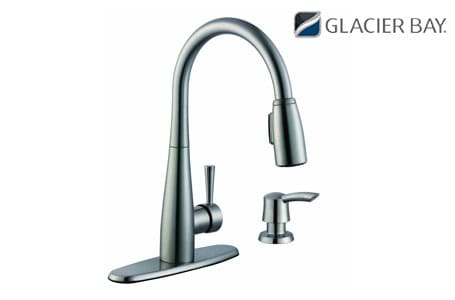 Home Depot manufactures the Glacier Bay faucet brand through collaborations with several overseas firms. Despite its popularity, Glacier Bay is considered an entry-level brand, and each collection has a restricted number of product designs and features.
One Handle Pull Down/Pull Out Kitchen Faucets, Two Handle Kitchen Faucets with Side Spray, Wall Mount Kitchen Faucets, and Commercial-Style Kitchen Faucets are the most popular styles of kitchen faucets available from Glacier Bay.
The company promises that its faucets are made with the highest standards of quality and workmanship, with a 20-year warranty on drip-free and leak-free ownership under typical home use. Further, it guarantees that if there are any leaks or drips during that time limit, the components to fix the faucet will be supplied to the buyer free of charge.
8. American Standard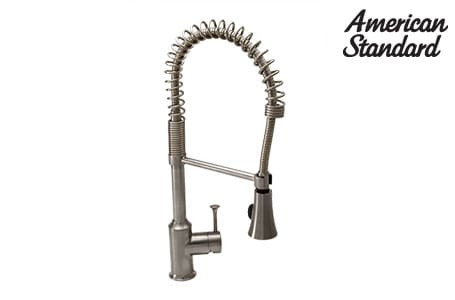 Established originally in 1875, American Standard merged with Standard Sanitary Manufacturing Company (SSMC) in 1929 and emerged as one of the leading manufacturers of bathroom fixtures. They eventually amalgamated with the American Radiator Company and became popular as "American Standard."
American Standard has won its consumers' confidence as one of the most recognizable sanitary ware companies by consistently bringing style, quality, and dependability to their bathrooms. Each deliberate innovation is dedicated to protecting the environment without compromising product performance.
An independent laboratory has determined that American Standard faucets meet all of the durability and safety criteria regulating the sale and installation of drinking-water faucets in North America, as well as the North American lead-free standards.
Both residential as well as commercial items are the emphasis of American Standard. Several designs manufactured by the brand are pull-out faucets, pull-down kitchen faucets, bar faucets, etc., with a variety of combinations to fit your preferences and innovations that continuously enhance your day-to-day lives.
9. Kraus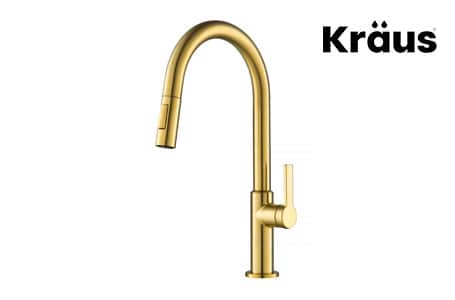 Kraus is a New York-based faucet manufacturing company that incorporates better respect for urban architecture into each kitchen faucet design while maintaining a minimalist aesthetic. The faucets provided by Kraus manage to bridge a specific gap in the industry.
Many residential kitchens lack the room to accommodate a genuine commercial faucet, and Kraus has produced numerous lines that effectively address this issue. Kraus offers almost 50 types of kitchen faucets to select from for your next renovation, remodel, or new construction project. Here's an overview of the most prominent types of kitchen faucets that can be found across all major brands.
The faucets are designed to offer a contemporary and posh look at a reasonable price. It's an item that's both comfy and effective, as well as simple to use. Installing a Kraus kitchen faucet is simple, and the instructions that come with each faucet are also easy to follow.
Although it is typically advised that you hire a professional to install your system, you may do it yourself as well. Kraus then backs its kitchen faucets with a limited lifetime warranty that covers flaws in the materials or craftsmanship that went into making the goods. Replacement components are given free of charge, and in some cases, a new faucet is sent as well.
Conclusion
The above mentioned are some of the leading kitchen faucets made in USA that are recognized globally. The manufacturers in the United States have aced the art of combining aesthetics with performance and longevity. Their faucets are both attractive and dependable.
Because of the rigorous manufacturing requirements in the United States, manufacturers of American-made kitchen faucets are required to utilize high-quality materials only. Hence, the kitchen faucets produced in the United States are corrosion/leak-resistant and devoid of hazardous chemicals. We hope this article helps you in deciding your ideal faucet for your kitchen.