Moen Vs Delta Kitchen Faucets | Which Is Better?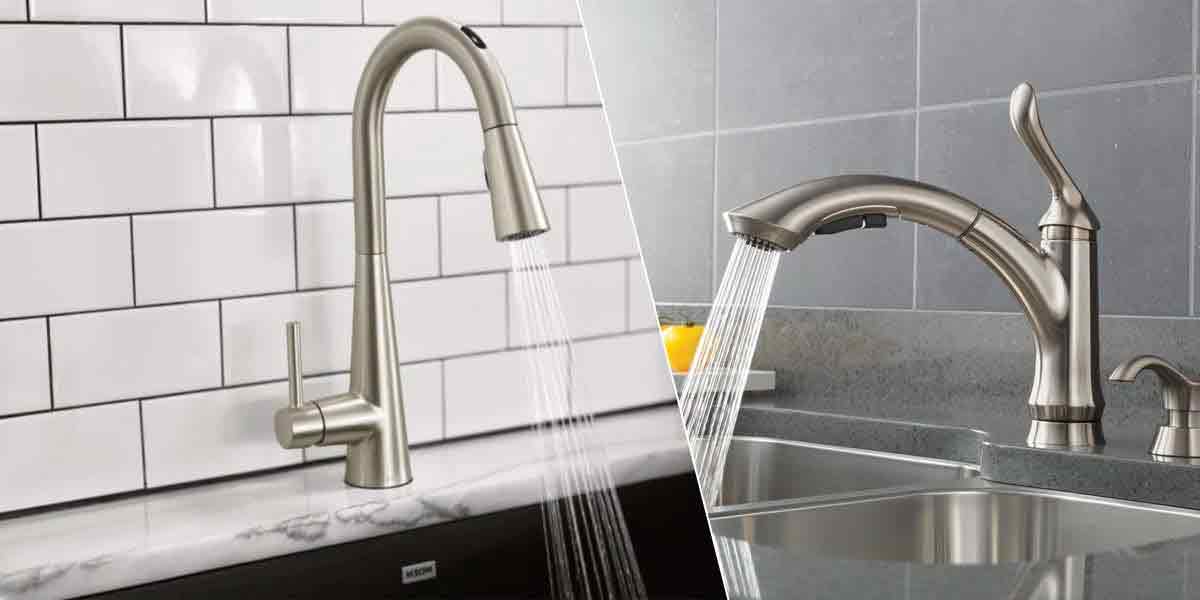 Those familiar with the world of interior design, especially kitchen appliances, know that the two top choices for kitchen faucets are undoubtedly Moen and Delta. Not only do they have some of the best technology and design, but they are both trusted and reputable kitchen faucet brands that homeowners love.
When shopping for a new kitchen faucet, it becomes essential to choose wisely because a kitchen faucet is not a fixture you want to be changing too often. When deciding between Moen and Delta, it can be difficult to narrow it down to one brand and the suitable faucet model under it. To ensure that you do not get overwhelmed, this article simplifies the process and will help you choose the right kitchen faucet for your home.
About Moen Faucets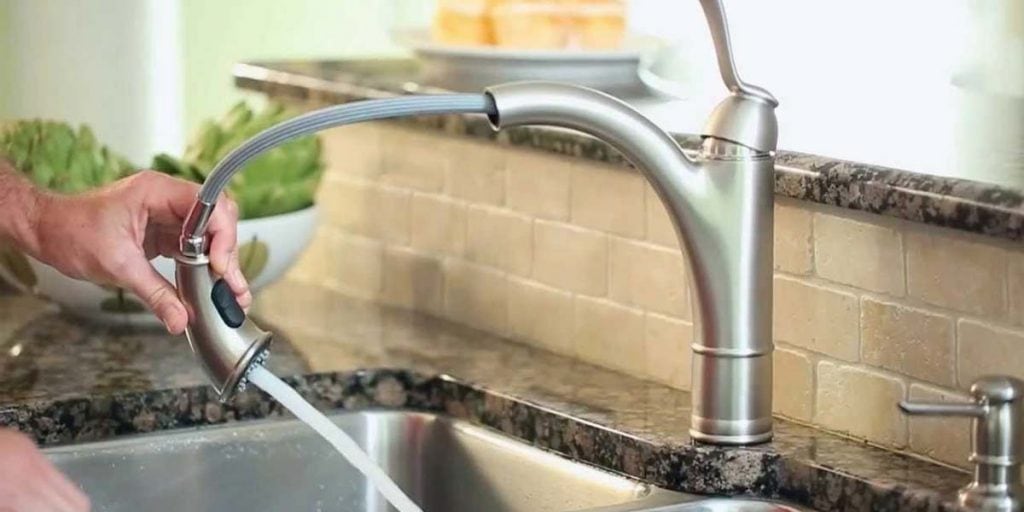 The Moen Company is one of the oldest and most trusted names in the home appliances business. It is known for its cut-edge technology and modern outlook when it comes to its products, which makes them one of the top choices. They customize their faucets to suit your kitchen needs- whether they're transitional, traditional, or modern. They have three categories of faucets that you can choose from, including fixed spout, pullout/pulldown, and bar and butler/ filtration.
They aim to combine innovation and value, and so the faucets boast of features like the motion sensor, power clean, power boost, spot resist finish, reflex action technology, and a one-handle control. Their research ensures that their products are highly adaptable, easy to use, and long-lasting. If all of these features intrigue you, we would recommend you to read our review on the best Moen Kitchen Faucet.
About Delta Faucets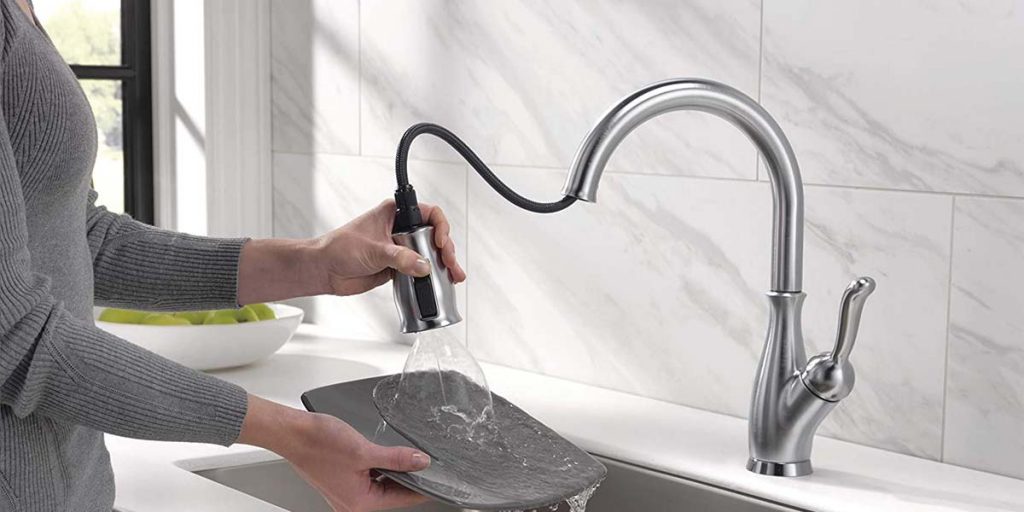 Delta came into the market slightly after Moen, and it immediately became an at par competitor in the field of kitchen faucets. Their faucets come in various shapes and sizes, including two-handle or single-handle faucets, widespread or center set faucets, and pull-down faucets- all equally well designed. Delta faucets also have an overwhelming amount of features available, including soft-touch, volume control, side-spraying technology, and are also water efficient.
Besides these, some of their features are also trademarked and unique to their brand, such as the active touch, brilliance finish, spot shield, Multi-Flow Spray Technology, and EZ anchor. These features make Delta faucets extremely user-friendly, and as a result, you get a kitchen faucet that offers great functionality, durability, and elegance. If all of these features intrigue you, we would recommend you to read our review on the best Delta Kitchen Faucet.
Delta vs Moen Kitchen Faucets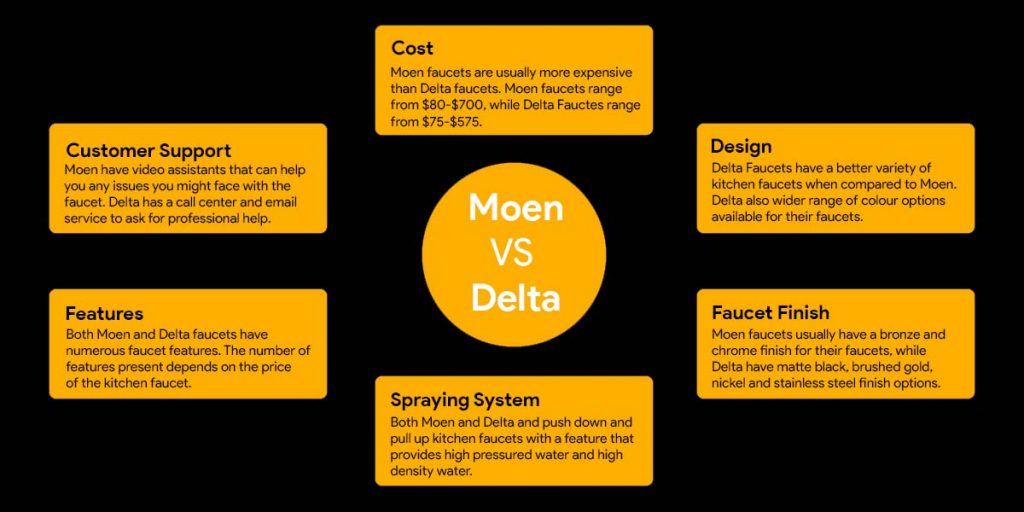 1. Moen vs Delta Faucet Cost Difference
Moen faucets are usually more expensive in comparison to Delta faucets. They start from $80 and range up to $700. The low-end options are more basic, whereas the high-end alternatives have a wider range of features, better style, and are more long-lasting. Shipping is usually included, whereas Installation is usually is not. However, it can be included at an extra cost. Delta faucets are comparatively more affordable. The cost of Delta faucets starts from $75 and ranges up to $585 as well. Similar to Moen, the price depends on the number of features present in each faucet and its overall quality. Shipping is usually included, whereas Installation may or may not be included.
2. Moen vs Delta Faucet Design Difference
Moen faucets are well-known for having exquisite and bright touches that give a new look to your kitchen. They come in various designs, including transitional, traditional, or modern. When it comes to design, Delta has a better variety of selections. It has more color options in each design when compared to Moen faucets. Overall, it has a broader collection, including options such as Leland for traditional looks, Essa for transitional, and Trinsic for modern looks.
3. Moen vs Delta Kitchen Faucet Finish
Moen has great tones and a degree of sheen when it comes to faucets. Chrome and oil-rubbed bronze are usually the most popular finishes that homeowners opt for. Other popular finishes that Moen offers include matte black, brushed gold, nickel, and stainless in various styles. Delta has a number of finishes available, including chrome, lumnicoat chrome, stainless, arctic stainless, and spot shield stainless. Delta also has the Brilliance finish, which helps to prevent any discoloration from your kitchen faucet.
4. Moen vs Delta Faucet Spraying System
Moen has both pull-down and pull-up methods available in numerous styles. Moen also has a Power-cleaning feature, which provides higher pressure and denser water from their faucets whenever needed. Moen claims that the power cleaning ensures at least 50% more efficient water spraying. Delta, as well as pull-down and pull-up alternatives available that homeowners can opt for. Delta, as well as an advanced and unique technology used by Delta, is Shield-spray. It is similar to Moen's power cleaning feature and is efficient and easy to use.
5. Moen vs Delta Faucet Features
Moen has a wide range of features, including the Touchless Feature, among the most popular ones. This motion sense technology has been patented by Moen and is easy to use, hygienic, and saves water. The Reflex Technology works well with a pull-down or pull-out faucet to enable the spraying wand to return to its original position.
The microban technology helps keep the faucet bacteria-free, and the water sense feature helps keep the faucet's water pressure balanced. Besides these, Moen also has a range of other features, including eh spot-resist finish, M-pact system, and pause mode, making it one f the top choices.
Delta faucets are sturdy and leakproof since they use diamond valve technology. Delta Faucets also use Touch 2.0 technology, enabling users to switch the faucet on and off without touching it. Delta faucets also have spot-shield technology to prevent discoloration and corrosion. Besides these, its Magna tile docking systems retain the wand's position, and its numerous spray modes ensure that one can perform any task easily.
6. Moen vs Delta Customer Support
Moen has a vast library of customer support videos on topics including Care & Cleaning, registering your project, and other technical assistance faster. There is also video assistance for those having installation concerns. They also have a customer support helpline and an email that you can reach out to when you are facing issues such as a loose Moen kitchen faucet. However, there have been a few concerns from customers regarding a delayed response from their customer support.
Delta has an online provision to identify your product model number and identify the part you need to fix an issue with. Besides that, they also have a help center that has articles on common support topics regarding installing, uninstalling, troubleshooting, cleaning, and care. You can also reach out to their customer support through email 24×7 or via call during their working hours. People have often praised their support team for their prompt responses- which is why in this aspect Delta is usually preferred.
Conclusion
To sum it up, the right faucet depends on the preferences you have in mind. In terms of modern style, Avant-grade technology, and Faucet features- Moen is a clear winner. However, when it comes to style and color options as well as affordability- Delta exceeds Moen. Using this in-depth analysis, you can narrow down your choices and decide on the right kitchen faucet for your home and family.