Best Farmhouse Sink Reviews – What Material is Best?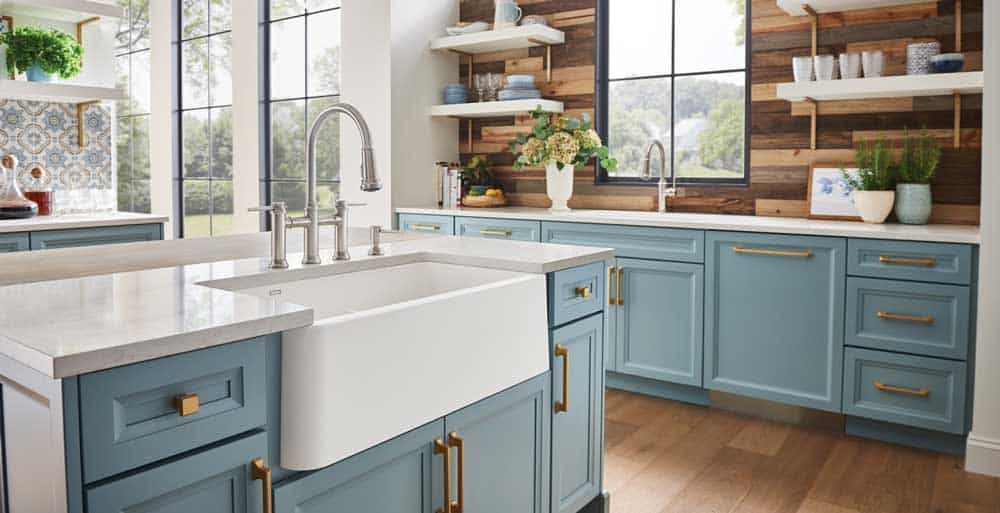 Farmhouse sinks are unrivalled among other sink options when it comes to aesthetics, elegance and functionality in the kitchen. These have been a popular choice among homeowners for a very long time and for all good reasons. If you happen to be looking for the best farmhouse sink for your new kitchen or even a remodel for that matter, let us reassure you that your opinion concurs with that of leading home décor experts in the country. Farmhouse kitchen sinks go exceptionally well with both; traditional and modern décor schemes.
With multiple options in terms of design, style, color and material to choose from, farmhouse sinks arguably have one of the most diverse range of choices out there. From copper farmhouse sinks to granite, fireclay, porcelain and stainless steel sinks, you have the privilege to choose corresponding to your specific requirements and preferences. While it is in a way, a good thing to have these many options to consider before actually investing your money, it could potentially leave some people overwhelmed and confused. This is where you could use our concise guide to help you find the best material for farmhouse sinks, their functional abilities and real-life shortcomings. With our thorough and reliable farmhouse sink reviews at your disposal, you could considerably narrow down your options while knowing exactly what to expect from your investment.
Our Top 5 Picks (Comparison)
Product Title
Product Title
1. Kraus KHF204 33-Inch Standart Pro Double Bowl Farmhouse Kitchen Sink
2. Bocchi Classico 30-Inch Fireclay Apron Front Sink
3. Lordear 30-inch Gunmetal Matte Farmhouse Kitchen Sink
4. Ruvati RVL2100WH 30-Inch Reversible Fireclay Farmhouse Sink
5. Fossil Blu 33″ Luxury Single Bowl Copper Farmhouse Sink
Material
Material
Stainless Steel
Fireclay
Stainless Steel
Fireclay
Copper
Bowl Configuration
Bowl Configuration
Single
Single
Single
Single
Single
Type
Type
Rounded Apronfront
Farmhouse
Farmhouse
Farmhouse
Farmhouse
Size
Size
33 Inch
32 Inch
33 Inch
30 Inch
33 Inch
Stainless Steel farmhouse sinks like the Kraus KHF204 bring together the elegance of an exposed apron front design and the durability, low-maintenance, heat resistance and immunity to chipping & cracking of stainless steel.
The sink has a thick 16-gauge double bowl model with two 10-Inch deep basins split at 60/40 of the total sink width. I like this feature more because the sink effortlessly accommodates large pots and pans while still having room for you to move your hands.
Both sink bowls have individual rear-set standard drains that in combination with grooved bottom surfaces account for good drainage. The sink installs beneath the counter while the slightly curved apron front sticks out in front of the edge.
Make sure your countertop slightly overlaps with the stainless on the sides and back so that water and debris can directly go to the sink and not get stuck on the ridge of the exposed part. The sink has a  commercial satin finish to protect the surface from scratches.
| Specifications | |
| --- | --- |
| Weight | 46.2 pounds |
| Included Components | Kitchen Towel, Two Bottom Grids, Assembly Strainer, Basket Strainer, Kitchen Sink |
| Finish | Satin |
I truly believe that this 30-Inch Fireclay sink from Bocchi is the best farmhouse sink for the money. Despite being priced competitively, the sink adds exceptional aesthetic value and elegance to your kitchen.
Unlike other metallic sink who have sharp edges which leads to junk build up this sink has a  smooth, seamless and curved surface which gives it an added advantage. Single Bowl rectangular sinks are spacious and arguably one of the best sink shapes.
And this makes cleaning this sink an easy task. Also, the sink has a very high resilience against heat. So you can place your hot pots and pans right off from the stove.
However, there are users who have complained that after heavy use of the sink they started noticing stains. The stains from the sides were easily removable because of the smooth surface but the bottom part is where the stains stayed. 
You can opt for this fireclay farmhouse sink for its classic appearance, low maintenance and extremely durable nature. But the only thing you need to look for is that this sink is very big and heavy as compared to other sinks and might face difficulty while installing it.
| Specifications | |
| --- | --- |
| Weight | 76.8 pounds |
| Included Components | Single-bowl-sinks |
| Finish | Smooth |
Of all stainless-steel farmhouse sinks available on the market, I've got a thing for matte finished models because a matte finish gives out a very unique, bold and elegant appeal; be it a sink, a faucet or any other fixture at display for that matter.
However, I'd usually find a limited number of options to choose from. As for this model, it's a fair exception. I had an array of 30-Inch, 33-Inch and 36-Inch farmhouse sinks with Gunmetal matte black, matte bronze and matte gold finishes to choose from; all 10-Inch deep. All variants would be best complemented by similarly finished high-end kitchen faucets. 
The sink is manufactured from 16-gauge T-304 grade stainless steel. Meaning, the sink is sturdy, tough and resistant to dents; at par with models from top brands that are much overpriced.
| Specifications | |
| --- | --- |
| Weight | 55.9 pounds |
| Included Components | 33 inch farmhouse sink apron front stainless steel |
| Finish | Brushed |
To begin with, the sink is reversible with different finishes each side. One side is plain and smooth while the other fluted. Meaning, you can have it installed either side facing front. In other words, there's no front or back side the sink and the central drain design further reinforces this idea.
The sink is 1" thick solid fireclay, weighs roughly 80 pounds which makes it a little heavy to install but you can install it beneath or countertop as per your wish. But there's one problem if you want to install a garbage disposal you should think twice before purchasing this model.
This sink provides a very small hole beneath the sink which is not sufficient enough to fit the garbage disposal flange. Apart from that there is not enough decline towards the drain which makes it difficult for the food to pass and you might need to push it. 
| Specifications | |
| --- | --- |
| Weight | 79.8 pounds |
| Included Components | Fireclay sink, bottom rinse grid, drain assembly |
| Finish | Glossy White |
Out of the ordinary, classifying as a true luxury, this Heavy Duty copper farmhouse sink is one of it's kind. Literally everything about this copper sink from Fossil Blu is extraordinary. Being made from 12-gauge 99% pure copper, this sink is hands down the thickest, heaviest and by extension, the most durable 33" copper sink on the market. With effective bowl dimensions peaking at 30" L x 19" W x 10" D, the sink is left with a grand 10" exposed apron that simply makes your kitchen attractive.
Unlike most other brands and sinks that I came across, Fossil Blu includes all the necessary accessories with your purchase. The package contains a custom-fit copper plated bottom grid, and a copper plated disposal flange with the sink. If you don't have a garbage disposal and wish for a strainer drain, the seller sends it across upon request.
| Specifications | |
| --- | --- |
| Weight | 52.6 pounds |
| Included Components | Sink Grid, Disposal Flange with Stopper |
| Finish | Copper |
What is the Best Material for a Farmhouse Sink?
1. Stainless Steel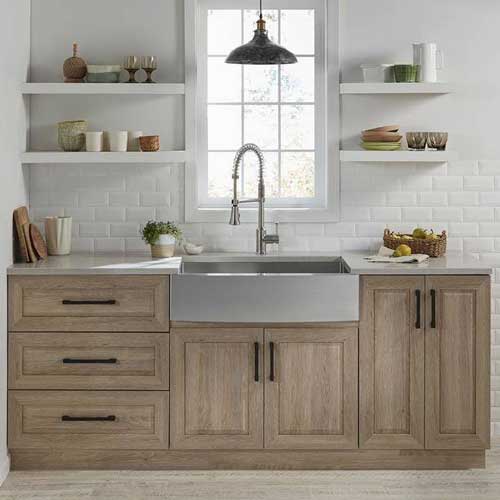 Stainless steel alloy from the very beginning is a material of choice when it comes to manufacturing durable kitchen and home appliances. The alloy has since found numerous applications across different industries. It being a blend of iron, nickel and other resourceful metals, it is one of the first choice for sink producers.
Owing to their corrosion, heat and weathering resistant nature, stainless steel sinks have seen a dramatic rise in prevalence across all states. The only negative for stainless steel sinks or any other metallic sink for that matter is that these tend to be noisier than granite and fireclay. Manufacturers coat the underside of the sink with noise deadening pads for this reason.
Also, stainless steel steel can scratch easily. You must ensure that the steel sink you've set your eyes on has a protective stain finish to account for superficial scratches. Additionally, you could add a stainless steel bottom grid to your sink to further safeguard it from scratching.
2. Fireclay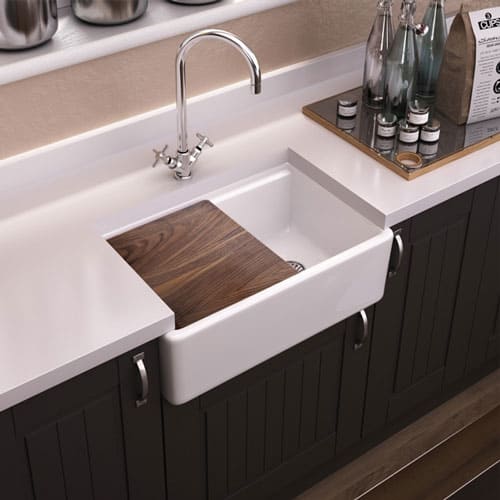 Fireclay farmhouse sinks are the most popular variants of farmhouse sink in recent days. These sinks are molded at high temperatures which is distinctive method of manufacturing and sets them apart from other sink materials. This peculiar method of construction also imparts fireclay sinks the strength and toughness that they're known for. These may attain temperatures of up to 2000° and are subsequently dried for as long as 24 hours.
This unique procedure results in a smooth, tough and durable material that is warrantied to keep looking young in any kitchen for years to come. On the downside, fireclay sinks have a limited choice of colors and designs to choose from as opposed to tough granite sinks.
The kiln-burned enamel coating further gives fireclay sinks an inherent immunity against stains and scratches. Furthermore, these do not hold on to stains from chemicals and other acidic food waste washed down the sink. However, fireclay sinks can be really heavy and may require professional assistance in installation. Also, you need to make sure if your cabinets can offer the needed support. Further, you must also ensure that the farmhouse sink you select is made from solid fireclay and is compatible with standard under-sink garbage disposals.
3. Copper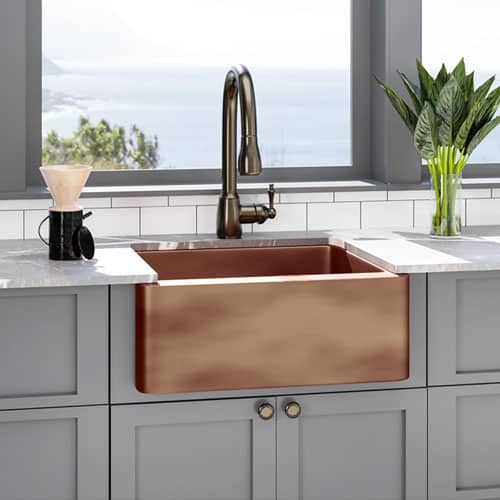 Copper is a rather unique and distinctive metal when compared other prevalent kitchen sink materials. Copper has been known its anti-bacterial properties for ages and has been an integral part of Asian kitchens for an exceptionally long time.
On the downside, copper is softer than other alloys and hence you must ensure that you get a copper sink with a thick gauge. (Gauge of a metal implies its thickness; where smaller the gauge means a thicker cross-section). Copper due to its lustrous nature becomes a premium pick for modern kitchens with arbitrary kitchen decor.
Copper farmhouse sinks are available as both; single and double bowl sinks. Be it the smooth finish or the hammered finish, both variants carry extraordinary aesthetic appeal. If copper sinks intrigue you, we've compiled a dedicated copper sink review for your reference.
However, there are some downsides that you must consider before finalizing copper as your preferred sink material. Copper is associated with time-dependent visual decaying. In other words, copper oxidizes with time and develops a patina. This tendency is peculiar to copper and isn't found in most other elements used for industrial manufacturing.
This is the reason some people view it as an added pro rather than believing it to be a disadvantage. The patina doesn't pose any threats and the sink functions just as well even after having developed the oxidized layer. Moreover, if you give your copper farmhouse sink enough time, it develops a uniform patina and levels out the difference in shades.
4. Granite Composite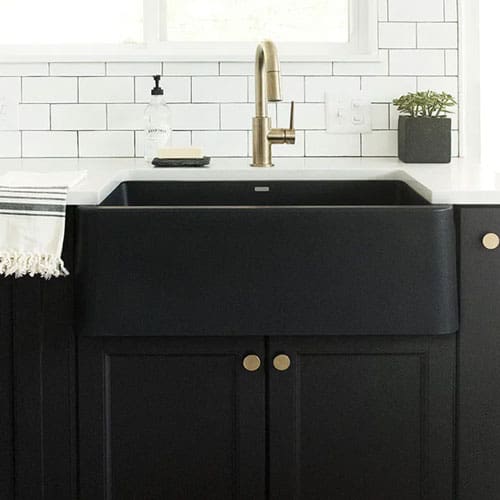 Granite stone and granite composite are two variants when you mention granite sinks. Both are reliable, tough, heavy and durable in nature. Granite sinks are anti-bacterial, non-porous and excellent at noise absorbing. They arguably have no con as compared to metallic sinks except for being heavy.
Granite composite sinks, in contrary to fireclay sinks have a larger variety in terms of design and finish options. Owing to a generous availability of color options, granite sinks go very well with any kitchen schemes.
Granite farmhouse sinks are in may ways, superior to metallic sinks. Unlike copper sinks, granite stone or composite granite sink won't ever show signs of corrosion. Similarly granite sinks are naturally quiet and they don't need any exterior mechanism to account for noise.
The material also cancels out sound from a garbage disposal (if installed beneath). Further, composite granite is highly resilient to scratching, staining and heavy impact. So much so, that you might need to be careful while handling glassware in a granite sink. Granite sinks are rather non-forgiving towards fragile flatware and dishes. This might be a con for some people, if you see it in a particular way. If you've developed any interest in this material, we've got a detailed guide to selecting the best granite sinks in out granite sink reviews.
5. Enameled Cast Iron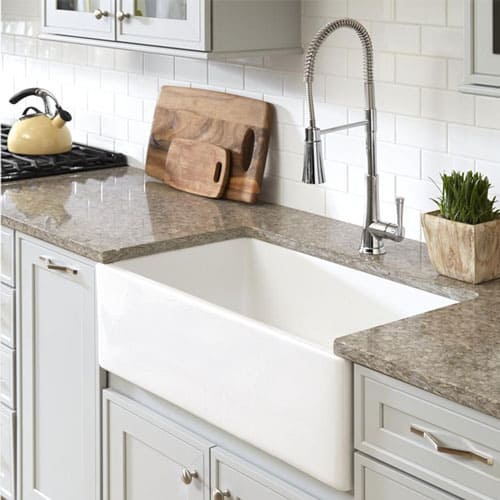 Cast iron is a yet another widely used kitchen sink material but has been seeing a gradual declination in popularity. Typically, cast iron is coated with a layer of porcelain or enamel to give the sink a smooth and seamless look. People might often confuse these with fireclay sinks because of the similar outer appearance. One point of distinction is that these have a greater variety in shapes and sizes unlike fireclay sinks.
Cast iron is associated with remarkable durability just like stainless-steel. The outer porcelain coating can however suffer damage from impacts.
Why are Farmhouse Sinks So Popular?
Farmhouse sinks (also popularly known as Apron front sinks) have gained massive admiration owing to the cozy tenderness associated with it's looks. These symbolically represent the good old country cottages and carry a warm homely feeling. Apron front sinks have been traditionally used for a varied range of purposes including scrubbing pots and pans, washing clothes and bathing babies.
Nothing adds sophisticated elegance to the kitchen like these do. Farmhouse sinks are big and spacious enough to accommodate baking trays and sheet pans, deep enough to stack a pile of them and wide enough to easily move things around. The exposed apron front catches the eye in an instant and is sure to be the focus of your kitchen.
Unlike Undermount or top-mount kitchen sinks, Apron front sinks are installed by sliding the sink in the custom gap created in the counter. The weight of the sink is entirely supported by the cabinet beneath. A custom-built cabinetry and countertop are, however, a prerequisite for installing most Apron front kitchen sinks.
Conclusion
Farmhouse sinks are an unwavering choice for designers and home owners for many reasons. The most prominent one of those still remains to be the elegance and warmth it adds to a kitchen. Unlike other popular categories in kitchen appliances and fixtures, you'll have just as many options to choose from as you can go through. Further, each material for farmhouse sinks has separate benefits. You can choose solely based on your needs and preferences.