16 Gauge Vs 18 Gauge Kitchen Sinks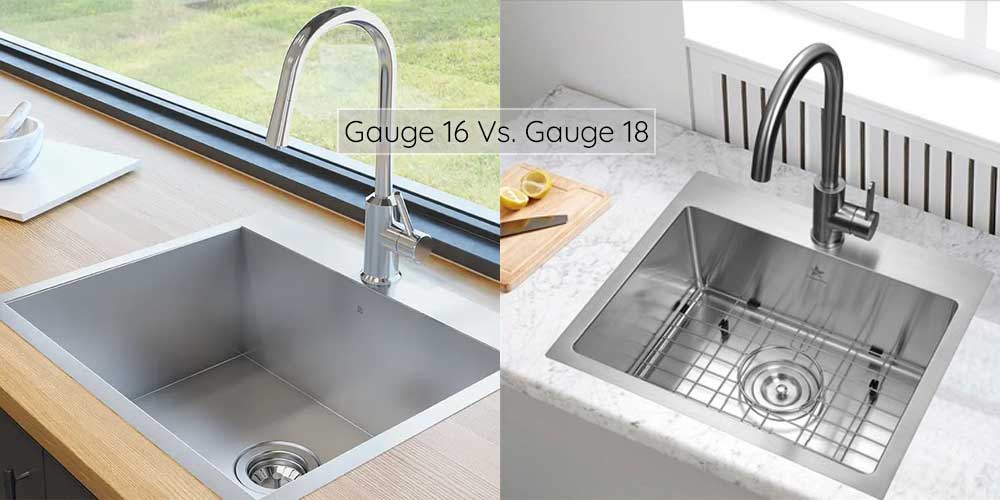 No one expects choosing a stainless steel gauge to be as much work as it is! 16 gauge, 24 gauge, the thickness, the level of shine, the brand, the style, the manufacturer- all of these things are important to be kept in mind while buying a stainless steel gauge. There is such a plethora of options that it becomes important to analyse your options wisely.
While there a ton of options in terms of sink materials, stainless steel sinks are hands down the most popular and prevalent choice for domestic and commercial settings. Stainless steel is a popular choice of material because it has a clean look, attractive finish and matches most of the kitchen interiors and concepts. In this article, we will provide you with all the information regarding what you need to keep in mind while picking the right gauge for your kitchen and home.
What is A Gauge For Metallic Sinks?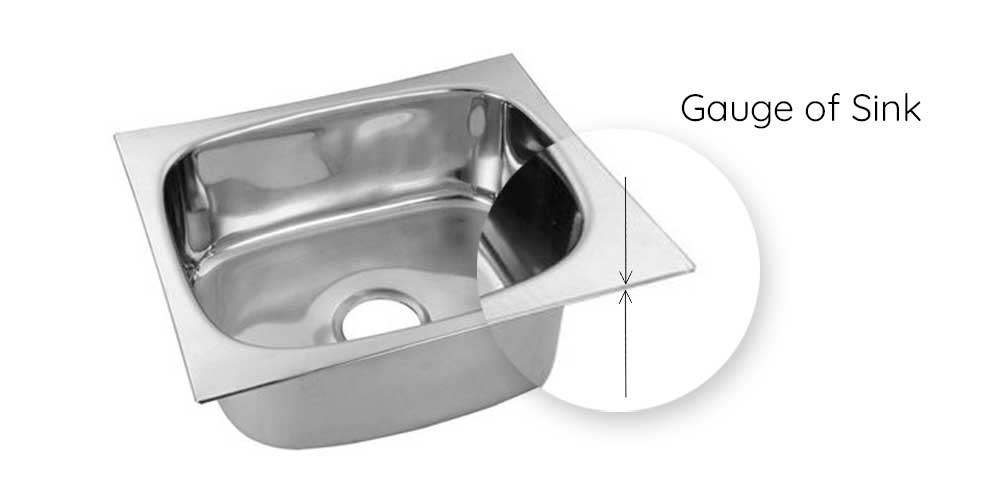 Often when talking about stainless steel sinks, or even copper sinks, one comes across the word 'gauge'. Gauge stands for the thickness of the stainless steel material that comes into consideration when one is producing or manufacturing a kitchen sink. The measurement of the gauge differs from other measurements, because it is inversely proportional to the thickness of the gauge. The lower the number, the thicker the gauge.
The gauge usually is a number between 15-25, and the most popular ones are 16-gauge sinks, 18-gauge sinks and 24-gauge sinks. As a rule of thumb, the lower the number the better, because a 24 gauge sink gauge will be only 40% as thick as compared to a 16 gauge sink.
What Is the Best Gauge For A Stainless Steel Sink?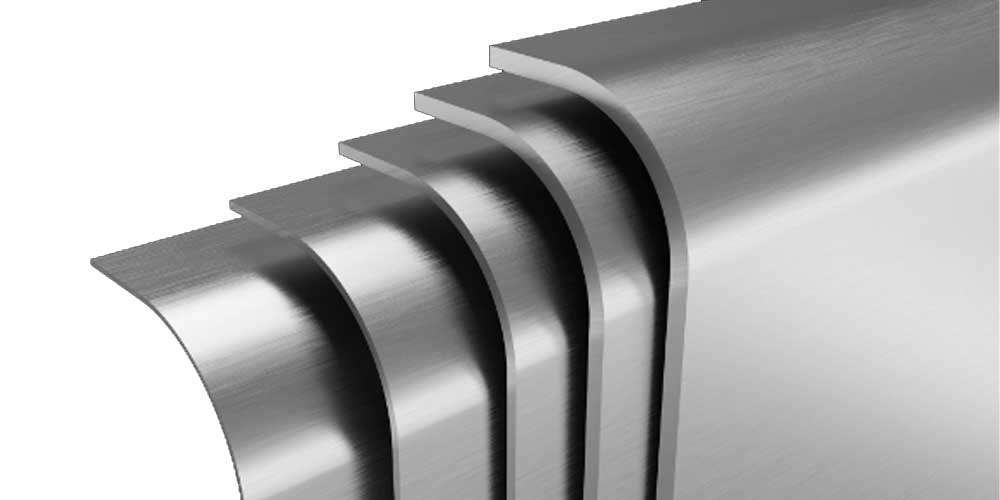 When choosing a gauge for a stainless steel sink, it is better to opt for a lower gauge, i.e- a thicker gauge for the following reasons- A lower gauge will provide improved noise dampening, since it is thicker it will also be less susceptible to to denting and damage and will have greater strength and durability.
Moreover it is believed that thicker gauges also contribute to noise reduction whenever items are dropped into the sink and so on. Some gauges include sound proofing and insulation on the underside of the sink with coatings or pads making the sink even more convenient to use.
Should You Get A 16 Or 18 Gauge?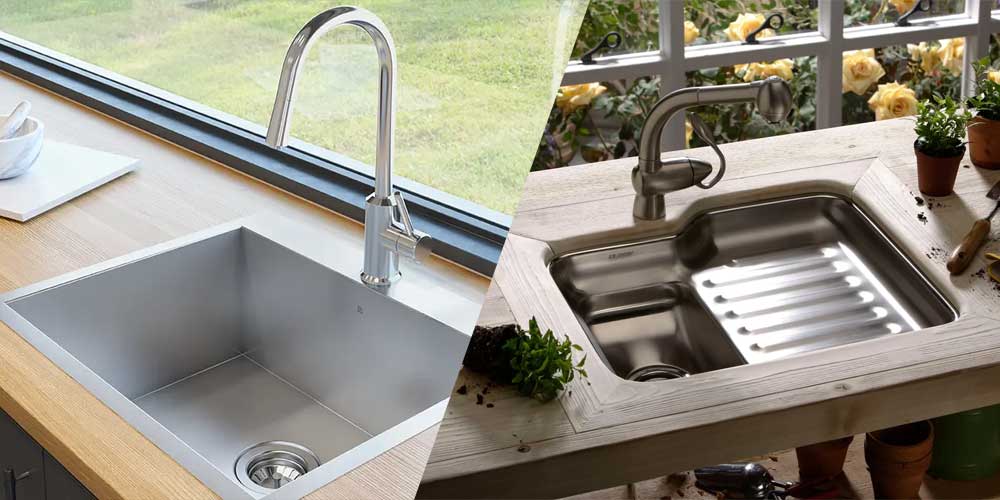 The ideal thickness for any stainless steel gauge is a 16 or 18 gauge since it . In the end it boils down to which of the two is more affordable for you, since the difference between their performance and overall satisfaction will be almost negligible.
To sum it up, if you had to choose between identical 16 and 18 gauge sinks at identical prices, the obvious choice would be the 16 gauge sink because it is thicker compared to the 18 gauge sink which is 20% less thick. Though the difference isn't noticeable by the naked eye, if available at the same price range it is better to go for the superior option.
However at the same time, if you had two identical sinks where the 16 gauge sink is more expensive than the 18 gauge sink- it makes more sense to go for the 18 gauge sink as the differences are not significant enough to pay extra.
Gauges higher than 18, such as 20,22,24 are too thin and even if they may be cheaper, they come with multiple downsides and are thus not recommended. The best brands to look out for are Blanco, Elkay, Kraus, Vigo and of course Kohler!
Stainless Steel Sink Gauge Guide
| Gauge | Thickness (Inches) | Thickness (Millimeters) | Lb/Sq.ft. | % Decrease in thickness over 16 gauge |
| --- | --- | --- | --- | --- |
| 16 | 0.0625″ | 1.5875 | 2.52 | – |
| 18 | 0.05″ | 1.27 | 2.016 | 20% |
| 20 | 0.0375″ | 0.9525 | 1.512 | 40% |
| 22 | 0.0312″ | 0.7925 | 1.26 | 50% |
| 24 | 0.0250″ | 0.635 | 1.08 | 60% |
1. 14 Gauge Commercial Sinks
Commercial kitchen sinks are heavier, thicker and more durable in comparison to ordinary kitchen sinks because they are created keeping their role in a commercial kitchen in mind. They are comparatively less prone to denting and can withstand the constant use of heavy duty utensils. They are usually installed with sound proofing and insulation and so are great at noise reduction. Their low vail, results in a higher level of thickness making it more heavy. The bulkiness and cost makes it impractical for daily use and perfect for commercial setups.
2. 16 And 18 Gauge Stainless Steel Sinks
The 16 and 18 gauge sinks are probably the best and most viable options because they are durable as well as affordable. They have exterior sound dampening pads which makes them noise reduction. They are more heat resistant, scratch-resistant, stain-resistant and dent-resistant when compared to any other stainless steel gauge sink. 16 gauge sinks are thicker in comparison to 18 gauge sinks, and are better by a slight margin.
3. 20 Gauge Stainless Steel Sinks
The 20 gauge stainless steel is considered thinner and more inexpensive when compared to the 16 gauge and 18 gauge. It's great for those who do not use their sinks for any heavy duty usage. It's less durable and requires more maintenance, but if 16 and 18 gauge sinks are not in your budget- this is the second best option.
4. 22 And 24 Gauge Stainless Steel Sinks
20 or 24 gauge sinks are higher in level, and so are extremely thin. They are ideal for small kitchens with less space, or set-ups like bar kitchens and cabins. They are much cheaper when compared to their 14,16,18 gauge sink counterparts. If you use steel cookware, iron utensils and other heavy-ware items-these are not suitable alternatives because they are extremely lightweight, prone to denting and have very less resistance in terms of discoloration and corrosion.
Final Words | Which of 16 Vs. 18 Gauge Stainless Steel Sinks to Choose?
To sum it up, the key to buying a long-lasting and durable metallic sinks including copper, cast iron or stainless steel sinks is remembering that thicker is better and hence lower the assigned rating, better the gauge. The best option is undoubtedly the 16 gauge sink, but some 18 gauge sinks are also great and come at affordable prices. A kitchen sink, is an appliance that will be used by you on a daily basis and so ensure it meets all the requirements you are looking for in terms of finish and style!